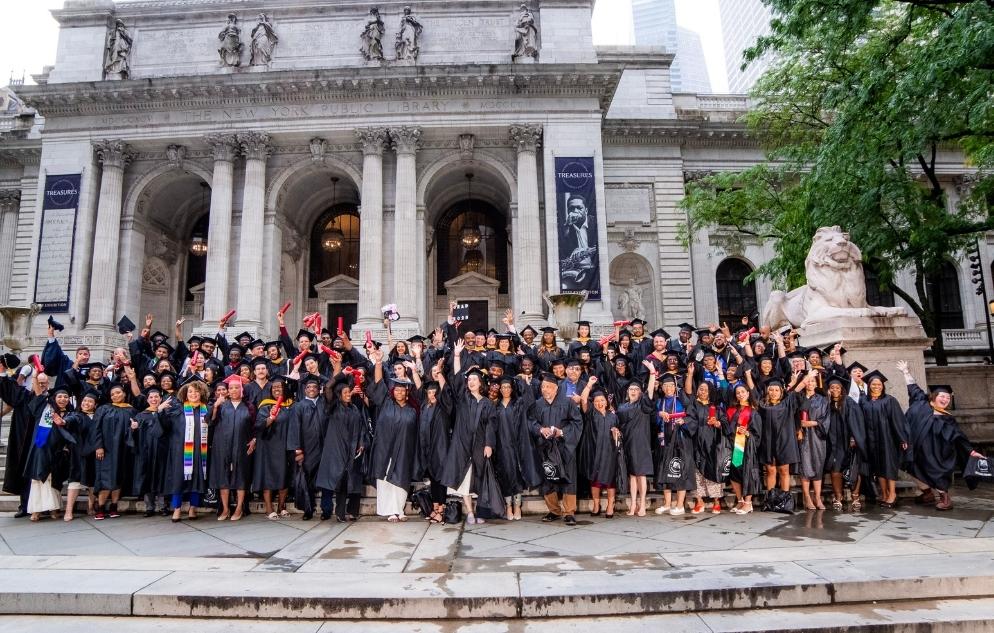 CUNY School Of Labor And Urban Studies Celebrates Its 4th Commencement
(New York, NY) – The CUNY School of Labor and Urban Studies celebrated its 4th commencement with a ceremony at the New York Public Library main branch located at 476 Fifth Ave at 4pm on Thursday, June 2nd. More than 300 guests, including graduates of the class of 2022, 2021 and 2022 and their families, School staff and faculty, and distinguished guest speakers and honorees filled the room to celebrate the graduates. The ceremony was hybrid, offering students and their families the opportunity to participate in person or remotely.
SLU's graduating class consists of a unique combination of young social justice activists, public sector workers and working adults who chose SLU to earn a degree or certificate and advance their careers.
Founding Dean Gregory Mantsios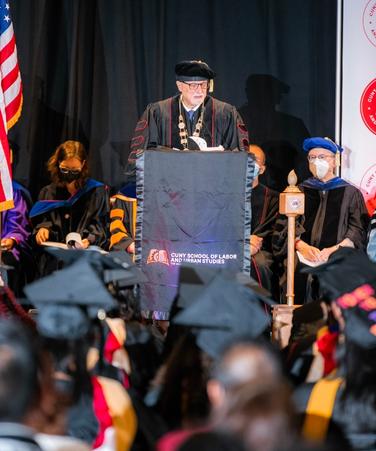 opened the celebration by recognizing the remarkable achievements of graduates over the past three years of a global pandemic. He continued with a message to the graduating class on their roles and responsibilities as public servants: "The events of the past few years have generated a collective rage. We see it renewed in union organizing drives. We see it in communities rising up against guns, against assaults on women's reproductive rights, against police brutality, against inadequate access to health care, and against the devastating environmental damage, overwhelmingly caused by corporate polluters. So the question I will leave with you is, 'What significant wrong will you endeavor to set right?' How will you, in your own way—whether you work in government or at a nonprofit institution, or you're an activist in your union or community—how will you make a difference? That's your challenge, and we are counting on  you to take it on."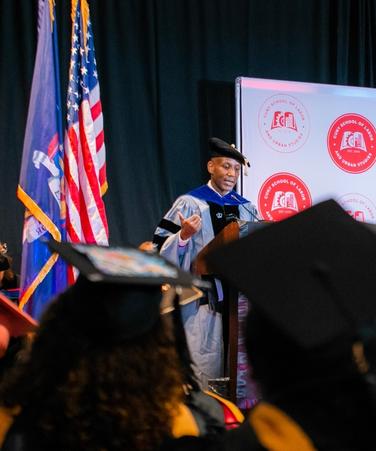 Keynote Speaker Professor Craig Stephen Wilder from MIT delivered a rousing, yet personal address. Professor Wilder spoke of his experiences in college, the significance the college experience had on his life, and left the class with parting words: "I cannot promise any of you that your lives will be simple and unencumbered. I cannot promise you that your life will unfold exactly as you plan it today. I cannot promise you that the story that you're writing at this moment won't have twists and turns. But what I can tell you – and I can say it with perfect confidence – you are ready for that life. The power of your education will reveal itself not so much as you plan your life, but as you live it. It will steady you and carry you through lives of beauty and difficulty filled with challenges and rewards."
Tania Caldwell, who earned her Bachelor's degree in Urban and Community Studies and is a recipient of the 2020 Joseph S. Murphy Scholarship for Diversity in Labor, delivered the class salutatorian speech. In her remarks, she touched on the importance of recognizing the effective leaders all around you: "Whether on the Parents' Association at my kids' school; workplaces where workers organize to demand better conditions; and at SLU, where leaders in student government help make opportunities more accessible for their fellow students … it's all of you who inspire me."
Violeta Gomez Uribe, who graduates with a Bachelor's degree in Urban and Community Studies and is also a past recipient of SLU's Joseph S. Murphy Scholarship for Diversity in Labor delivered remarks as student speaker. She reflected on her journey as an undocumented high school graduate and spoke of her education at SLU, "preparing us to be better leaders. Here we have learned about leading figures in history and… we have participated in making history ourselves—learning from the outcomes of the first union election in Amazon's history; supporting the picket line at Hunts Point market."
A Distinguished Alumni Award was presented to Kerwin V. Simon, Class of 2021. A two-time graduate of SLU's Urban Studies programs and proud member of CWA Local 1180, Kerwin is an Assistant Director at NYC Health + Hospitals involved in several projects that focus on improving patient care.
SLU also honored three recently retired members of the SLU community who have demonstrated extraordinary service. They include:
Stephen Brier, Professor Emeritus at the CUNY Graduate Center and U.S. Labor and History Consortial faculty at CUNY SLU.
Iris DeLutro, a leader in Worker Education who helped develop and coordinated SLU's signature LEAP to Teacher program, which assists NYC public school paraprofessionals to achieve their goals of becoming teachers.
Joshua Freeman, CUNY Distinguished Professor of History who has written extensively about the history of labor, modern America, and New York City.
The evening's festivities were capped off by a surprise proposal of Labor Studies graduates Nicolas Pineda and Noelle Hill, who met in 2015 when SLU was known as the Murphy Institute. The two started out in the undergraduate Labor Relations Certificate program and completed their journey at SLU with a Master's degree in Labor Studies.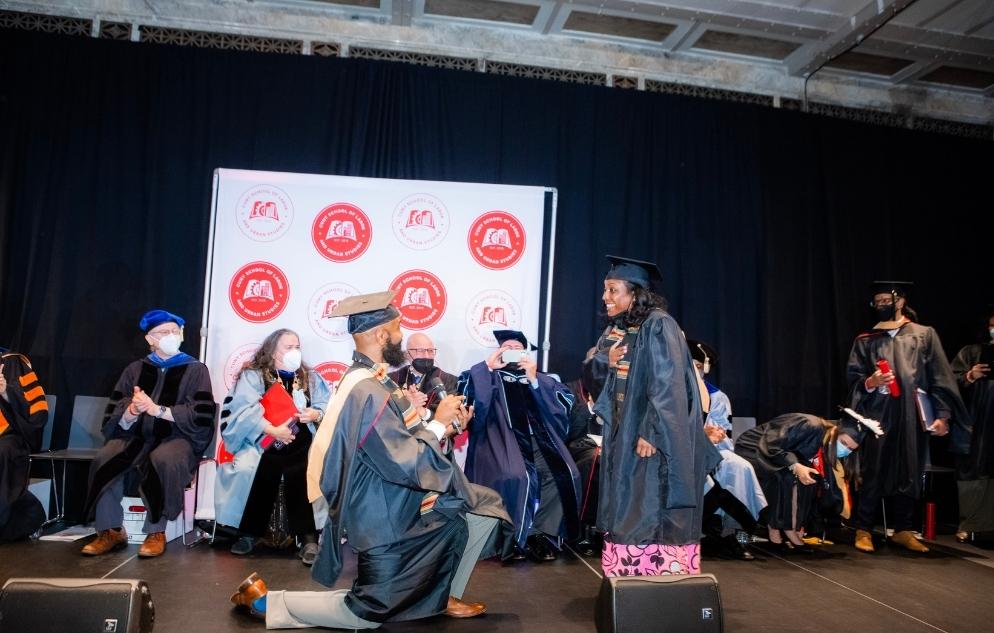 M.A. in Labor Studies student Nicolas Pineda proposes to his partner Noelle Hill.