City Works is a NEW monthly news magazine program produced by the CUNY School of Labor and Urban Studies (SLU) in collaboration with CUNY TV and hosted by Laura Flanders. The show's mission is to create is a visual and thematic presentation of work, workers and worker organizations, employing topical examinations of the changing nature of work, tributes to unsung heroes, and analysis of the enduring challenges faced by workers. The show will spotlight the vast array of occupations of working people across New York City, and explore individual and collective efforts to make a better life for workers and a more prosperous and equitable society.
The show will air on the first Monday of each month
To see all available channels, alternate airtimes and future digital broadcasts, click here.
We invite comments about City Works at cityworks@slu.cuny.edu.
SEASON TWO
---
SEASON ONE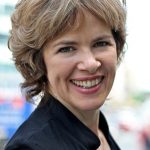 LAURA FLANDERS
HOST
Laura is a best-selling author and broadcaster. After many years in public and commercial radio, she founded The Laura Flanders Show / GRITtv in 2008 to serve as an online channel for in depth conversations with forward-thinking people from the worlds of politics, economics, business and the artsAmerica Radio (2004-2008) before which she was the founding host of Your Call, on public radio, KALW, and CounterSpin, the nationally-syndicated radio program from the mediawatch group FAIR.
ABOUT THE PRODUCTION TEAM
The new show is a collaboration between CUNY TV and the CUNY School of Labor and Urban Studies.  Gail Yancosek, the station's Executive Director and Gregory Mantsios, the School's Dean are executive producer. Rose Imperato is a co-producer along with Craig Thompson of CUNY TV. Carl Ginsberg is senior consultant and scriptwriter and Paula Finn is a consulting producer.
ABOUT CUNY TV
The City University of New York's television station, CUNY TV, has been educating and informing viewers for more than three decades. Established in 1985, the station has steadily increased its ambition and scope, in 2009 transitioning to high definition and adding over-the-air broadcasting to its existing cable distribution. Now reaching 7.3 million broadcast households in the New York metro area, CUNY TV is committed to extending the academic mission of the university to offer lifelong learning opportunities to all New Yorkers.