New Labor Forum is a national labor journal of the CUNY School of Labor & Urban Studies. The journal provides a place for labor and its allies to consider vital research, debate strategy, and test new ideas. Visit the New Labor Forum website here.
For even more content on noteworthy debates, reports, video clips, and artwork within the labor movement join our monthly newsletter "NLF Highlights".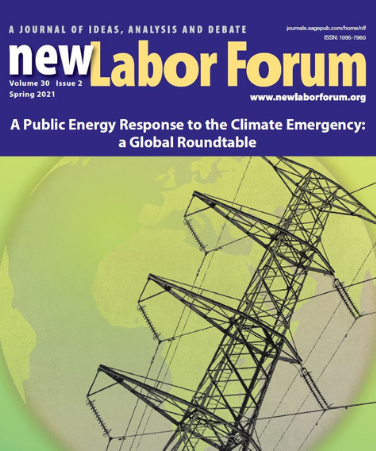 The spring 2021 edition of New Labor Forum features three contributions that make the case for public ownership of energy in different national contexts, namely, South Africa, the Republic of Ireland, and Mexico. Based in Cape Town, Dominic Brown explains that renewable energy advocates and much of South Africa's elite see the breakup and eventual privatization of the country's public utility as necessary to ending the country's dependence on electricity generated by burning coal. South African unions oppose this path and have cobbled together an alliance in defense of a reformed and "demarketized" national utility to oversee what will be a difficult transition to a low-carbon economy. In her contribution, Sinéad Mercier documents the achievements of the rural electrification program pursued in the 1930s by the newly independent Republic of Ireland. She notes that the privatization agenda pursued during the last two decades by the European Union has subverted the country's public goods approach to electricity provision and has also failed to meet its climate targets. Sean Sweeney's contribution looks at the largely unnoticed efforts by Mexico's left MORENA government to reverse the energy privatization process set in motion by previous administrations. While Mexican President Andrés Manuel López Obrador is not a "climate champion," Sweeney suggests his actions could set the stage for a public goods approach to decarbonization.
Reinventing Solidarity is a new podcast produced by New Labor Forum and the CUNY SLU. The podcast features scholars, activists, and artists on the front lines of movements for social and economic justice.
Episode 16: A Public Energy Response to the Climate Crisis
Episode 15: "The Next Shift: The Fall of Industry and the Rise of Health Care"
Episode 14: "Immigrant Labor & the New Precariat"