Here are the Elected Representatives of the SLU Student Union
Co-Chairs: Siddika Degia and Justin Sanchez
Treasurers: Lawrence Ben and Brian Fluerantin
Secretary: Jake Head
Steering committee: Eriam Lopez and Nicolas Pineda
Faculty Student Disciplinary Committee: Glen Guild, Eriam Lopez, Brian Hunt, and Siddika Degia.
The school is fortunate to have your collective leadership to represent our students in the spirit of solidarity and mutual support that you have shown along the way in this process. Great to have you all on board!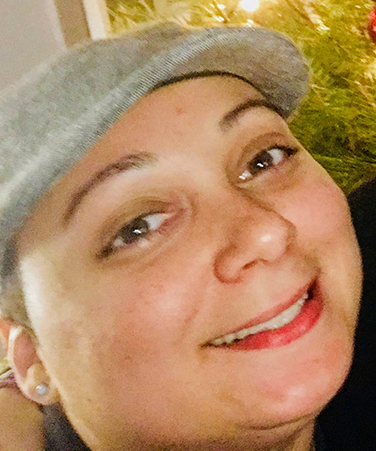 My name is Eriam Lopez. I am 37 years old and reside in Corona, Queens. I am a public servant working for the NYC Department of Housing Preservation and Development as a Labor Law Compliance Officer. Prior to this, I worked for various city agencies as a Minority and Woman Business Enterprise (MWBE) Compliance Analyst. My studies and work career have continuously led me to work as an advocate for workers and small businesses. As an essential employee, I am sharply aware of the dangers and sacrifices workers make every day. I stand for improving the quality of life, equality, and diversity within our society. I am a proud union member (SEIU Local 300) that believes in our ability to manifest the changes we seek for a stronger labor movement. I look forward to sharing my academic, work, and life experience with the SLU Student Union where I can advocate for our student body and provide a voice for the betterment of our school and the CUNY Administration.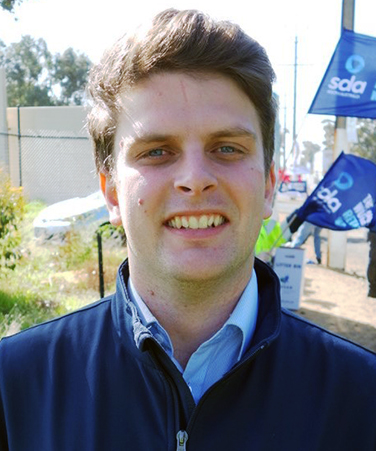 Lawrence Ben is an international graduate student. He moved to New York from Australia to complete the Union Semester in Fall 2018 and has stayed on to pursue an MA in Labor Studies. He worked from the Australian retail and fast food union as well as the Australian Labor Party. Lawrence currently works as the Political Coordinator at the Retail, Wholesale and Department Store Union (RWDSU). Whilst studying as an undergrad, Lawrence was a member of the student representative body and helped establish an affordable second-hand student bookshop and art gallery. Representing students and workers has always been at the heart of his life and work. Lawrence would like to contribute towards student support services at SLU, particularly by making textbooks more accessible.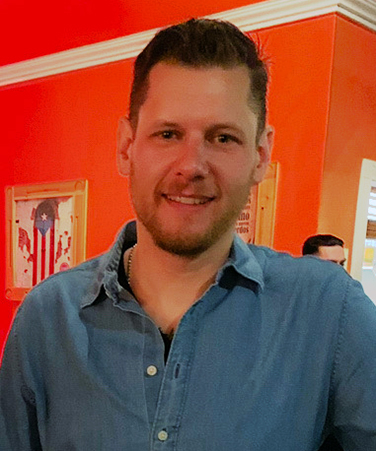 Brian Hunt is a native New Yorker born in Queens, has been a student at CUNY SLU for more than a year, studying Labor Relations and working towards a degree to pursue Labor Law to put towards the benefit of the hardworking middle-class community of New York City. His lifetime experience in leadership and organizational situations throughout different organizations has only fueled his passion for working together with others in bringing communities closer in order to reach their goals. He is a Union member of Local 638 Steamfitters Union and has represented his Local Union in different capacities over the years as a hard-working member. His work ethic and passion for development plays a key role in his desire to be a part of this team as a member of the Student-Faculty Disciplinary Committee. After experiencing CUNY SLU and its environment and what each and every person here represents, Brian has only become more motivated to grow with the student body and faculty in an institution who's goals and interests are pursuant to his own.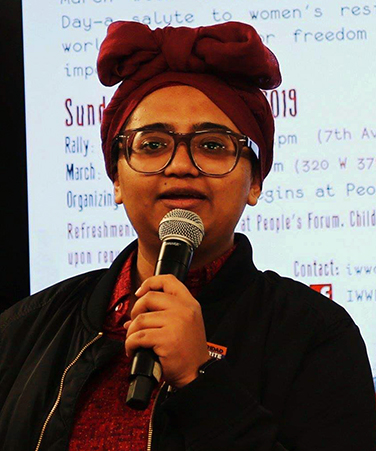 Siddika Degia is a Muslim Indian- American born in India and raised in the Bronx. Siddika is a professional by day and an activist always – fighting one day at a time for a just world; she works in the non-profit world and in her free time organizes for the People's Power Assemblies, a volunteer-based grassroots organization dedicated to fighting all forms of oppression, especially police brutality. As an organizer, Siddika has learned the importance of highlighting people of color voices and making space for those voices to be heard. Siddika wants to run for student union at SLU because she strongly believes in education, especially a labor school, and believes that through student union work she can help listen to the problems of graduate students to help make the school and education a respected and representational place for the communities we serve; to help make academia a comfortable place for people of color students. Siddika is currently pursuing her MA in Labor Studies.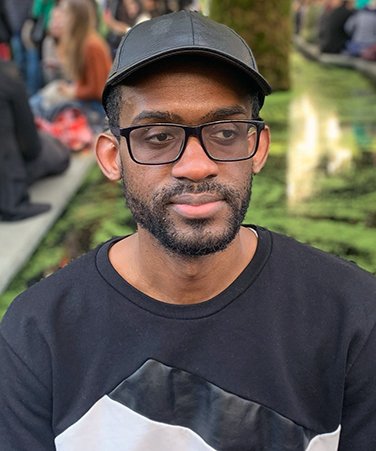 Brian Fleurantin is a student currently pursuing his MA in Urban Studies. With undergraduate degrees in Human Services from City Tech, Brian has been working for non-profit organizations for over eight years and hopes to continue working within the community in the future. Brian has also been working with the RWDSU to bring a union to Housing Works since 2018. Brian is someone that believes in being present and fully in tune as to what's going on. In SLU, Brian hopes to continue creating a sense of community and camaraderie with his peers while advocating for their needs. Upon graduation, Brian hopes to continue working with marginalized communities and assisting them in getting access to needed services and in creating a more just and fair society.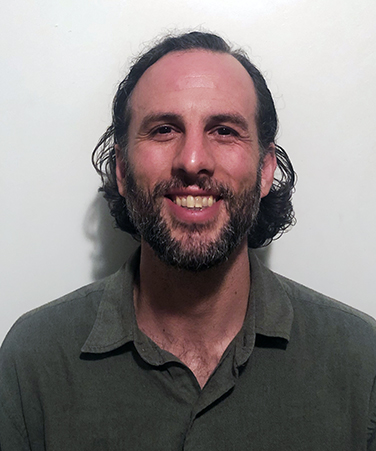 Jake Head is a Master's student in Urban Studies, and has been a part of the school since the days of The Murphy Institute when they began Public Administration & Public Policy coursework in Spring of 2018. He is
currently employed as a Non-teaching Adjunct at SLU, serving as Research Assistant to Ruth Milkman, while also doing service work in the Food & Beverage industry, conditions permitting. Jake also puts in work with the Democratic Socialists of America in an effort to reform our political system so it can better serve a multi-racial working class.
Jake is running to help give voice to the student body in our fledgling school, to honor CUNY's deep traditions, and to help represent our school and CUNY in state-level fights for educational standards and adequate funding. The academic, professional, and activist communities Jake has been privy to at SLU have contributed to a fuller appreciation of a social democratic ethos persisting in this city; an ethos he would be honored to advance while serving on our Student Union. Our city's public institutions persist because of political fights mobilized by the working class to protect them, and because of the work that civil servants do sustain them. Jake aims to advance these rights to our city as well to protect CUNY as a vital public institution, if elected to do so.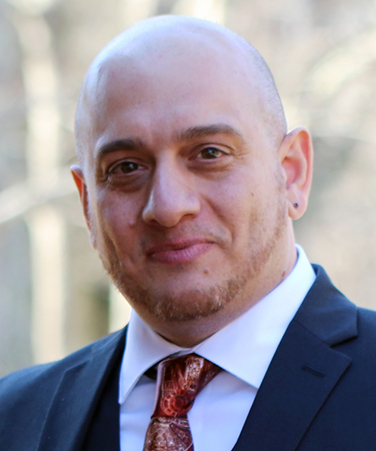 Glen Guild is a graduate, summa cum laude, of the CUNY School of Labor & Urban Studies (SLU) with a Bachelor of Arts degree in Urban Studies with a concentration in Labor Studies. Glen is also an alumnus of the CUNY School of Professional Studies (SPS) where he completed the Certificate in Labor Relations program with a 4.0 GPA. Employed in the telecommunications industry, with Verizon, Glen earned an Associate in Applied Science degree in Telecommunications Technology at CUNY Bronx Community College with Dean's List distinction. Born and raised in the Bronx, Glen has been an active union member of the Communication Workers of America (CWA) Local 1101 for over twenty-five years; advocating for workers' rights and the labor movement throughout the Bronx, Manhattan, and surrounding areas. With experience in mobilizing, organizing, safety coordination, and grievance management, Glen is confident in his abilities to address the concerns of his fellow students and communicate them with faculty and staff. As an undergraduate during the transition from SPS to SLU, Glen realizes the difficulties in navigating new processes. A husband, father, and full-time employee; Glen relates to the challenges of returning to school as an adult while coping with multitudinous responsibilities. This background in labor relations and conflict resolution equips Glen for the task of interacting with his peers and administration with the goal of solving problems. He is currently enrolled in the Advanced Certificate in Labor Relations program and has been accepted into the Master of Arts in Labor Studies program. Glen's ambitions include completing his studies in order to forward his career and stay up-to-date and relevant in the labor movement.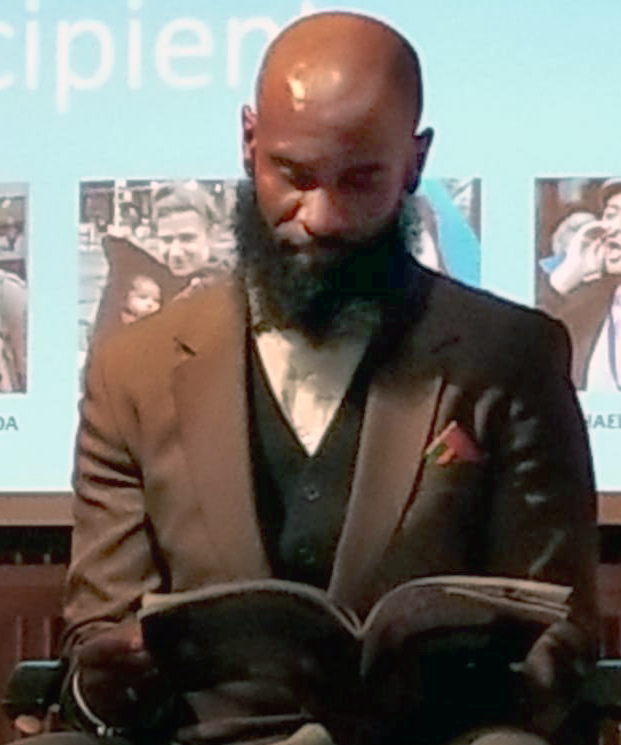 Nick Pineda is a native New Yorker born, raised, and residing in the South Bronx. He is the son of two immigrants from the Dominican Republic who joined unions shortly after their arrival to the United States. Nick was part of the first graduating class of the School of Labor and Urban Studies and started a preventative healthcare non-profit that still serves the community to this day (#fitfambx). He also earned his certificate in Labor Relations and almost immediately started consulting on labor issues.
He believes in what the school stands for and takes every opportunity to empower others in the same way that he has been empowered. He has represented the school and helped recruit new students both as part of the Academic Governing Council as a student representative. He sees the Student Union etc. as a natural extension of these endeavors.
It is strange to write about yourself in the third person, and so I will now break that invisible wall.SLU will be to Labor what MIT is to science. I am 99.9% sure of this. Hence, I will be here as long as there is work to be done… and there will be plenty to be done once we get past this pandemic. I am currently working towards my Advanced Certificate in Labor Studies and then moving into the MA in Labor studies. It will not be easy, but nothing that is worthwhile usually is.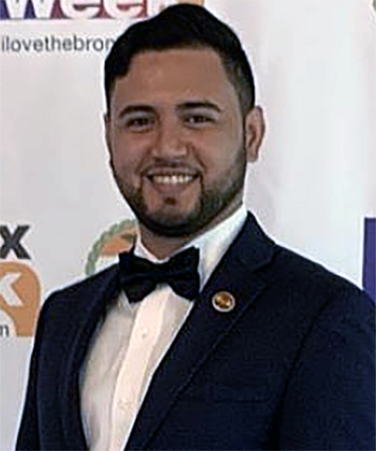 Justin Sanchez is running to represent you as Co-Chair at the University Student Senate. Born and raised in the Bronx, Justin attended the Bronx High School of Science and is currently pursuing his BA in Urban and Community Studies. He has been working in government and politics for the last four years. He was the Recruitment Director for the Working Families Party. He more than doubled voter participation in Participatory Budgeting and was a leading voice in the fight to open the Bronx LGBTQ+ center while serving as the first-ever LGBTQ+ Liaison for a Bronx elected official. Currently, he serves as the Deputy Director of External Affairs for the Bronx Borough President. As Co-Chair, he hopes to use this opportunity to begin implementing systems and organizational structures that will lead to robust and vibrant student life. This begins with having a student government that places an emphasis on communication – listening, understanding, reflecting, and always aiming for improvement. Justin hopes to be able to bring all students to the table so that together we can lay the foundational blocks for generations of SLUdents to come.