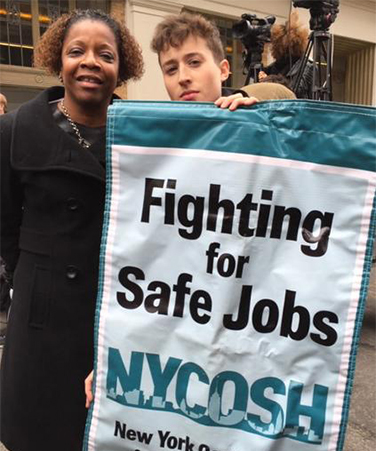 Liam Lynch (M.A. Labor Studies 2015) is on the front lines of the COVID-19 response. Not in a hospital, but in a classroom. Not wielding a stethoscope and a thermometer, but a Powerpoint presentation and the law. Liam works as a Safety & Health Specialist with the New York Committee for Occupational Safety and Health (NYCOSH), a non-profit comprised of workers, unions, community-based organizations, workers' rights activists, and health and safety professionals committed to defending every individual's right to a safe and healthy workplace.
The trajectory of Liam's journey to his current mission has been continuous. After earning an undergraduate degree in social thought and political economy at the University of Massachusetts/Amherst, he took some graduate courses in labor studies and tried his hand at student organizing. It clicked. Then, "I followed a girlfriend to New York City," Liam chuckled, "and she steered me to The Murphy Institute. I completed my Union Semester in 2013, and went on to finish my M.A. in Labor Studies in 2015."
Liam credits Professors Stephanie Luce and Penny Lewis, along with former adjunct instructor Michael Murphy, for supporting his interest in public safety and health. His Union Semester internship was at SSEU Local 371, DC37, and he subsequently spent a year in the Council's health and safety department, where he received on-the-job training as well as mentoring from DC37 Health & Safety Director Deborah Williams (shown above with Liam).
In 2015 Liam joined NYCOSH, which helped him get credentialed as an OSHA-authorized trainer. NYCOSH also sent him to the Rutgers School of Public Health to acquire expertise in hazardous waste education, which he provides for transit workers.
In non-crisis times, Liam provides a variety of trainings across the city, but now his mandate has shifted to educating workers about COVID-19 as an occupational safety and health hazard. He has been providing bi-weekly trainings to workers and their union reps on how to stay safe, and what employers are supposed to be doing to keep workers safe in accordance with CDC and OSHA guidelines.
"The goal of our training is to increase awareness for workers with an increased risk of exposure to COVID. We teach them what the modes of transmission are, what the symptoms are, and what should they do if they have been exposed," Liam said. "But more than that, we want them to actively identify methods to prevent exposure to COVID in their workplaces."
Liam is troubled by the lack of testing for COVID, in New York and around the country. "Members of the public, and health care workers in particular, are often not tested after being exposed and developing symptoms. They're just told to go home and self-quarantine," he said. "But if you don't test people, you don't have data. This happened after 9/11, too, with the World Trade Center Registry. We need the data—we need to know who you are if we are to take care of you in the future."
He is also appalled by the lack of access to personal protective equipment (PPE). "It's like going to war without armor. We need to have access to the federal stockpile. Good grief, nail salon and construction workers have been donating PPE to health care workers. The federal government needs to do a better job at dispensing this crucial equipment to our frontline workers."
Liam noted that a lot of the efforts to tame COVID-19 are emanating from nongovernment entities. "SSEU-UHW of California was able to locate and distribute 39 million N95 masks, when the government seemingly couldn't. (Read about it here) And Mount Sinai Hospital has developed a process to extract antibodies from the plasma of people who have recovered from coronavirus that might be used to treat critically ill patients."
"Employers like to tell workers they have to assume risk," said Liam. "Many of these at risk workers are considered 'essential'—grocery clerks, for example—and they are literally on the front lines of this struggle. Their last line of defense is PPE—we are working to give them access to PPE and training them how to use it to protect themselves." He added, "OSHA has issued guidance on how to best protect workers.
Unions like RWDSU are working to implement that guidance by ensuring workplaces utilize engineering controls, such as providing sneeze guards, or administrative controls, such as staggering work schedules so people don't commute at the same time."
Liam observed that the recently passed federal legislation to address the COVID-19 crisis has major shortfalls. "We also need to protect gig economy workers. A lot of the legislation doesn't cover the 'precarious workforce,' especially with regard to paid sick leave."
Noting that March 25th marked the 109th anniversary of the Triangle Shirtwaist Factory fire, Liam said, "Like Triangle, this can be a turning point for the labor movement. Organized labor should rally around this critical moment to propose and pass protections that we don't currently have for workers, such as an infectious disease control standard at OSHA. If we take advantage of this key opportunity, we can accomplish something monumental."
KenDell Jackson is a graduate candidate in the URB MA program, and recipient of a 2019 University Student Senate Graduate Peer Mentor Scholarship. KenDell was interviewed by SLU Advisor Samina Shahidi.
---
What is the University Student Senate Graduate Peer Mentor Scholarship, and how did you get involved with it?
The University Student Senate Graduate Peer Mentor Scholarship is a recognition for students that have shown academic excellence, scholastic dedication and overall contributions to the improvement of student life. The CUNY SLU advisement team provides frequent updates on upcoming activities and opportunities. Like many of us being so busy, I ignored many of the previous emails suggesting that students apply for Graduate Mentor Scholarship opportunities. I hadn't considered the Scholarship as a viable option. I was certainly wrong. I decided to submit an essay describing my journey and how working with youth via Track & Field is my unique contribution to improving my community. It started with just training my daughter and it blossomed into working with over 50 young people in the Bronx. Mentoring youth while enrolled in a Graduate program has helped shape my perspective on community and urban needs. It's also great to inspire both youths and their parents that if Coach K. can manage work, school and coaching, they can too. Just a few months later I received notice that I had been selected as a scholarship recipient. I recommend to my fellow students: don't be fearful of taking a chance on yourself.
Talk about your coaching relationship with your daughter.
I have been a Track & Field coach for the past five years with Velocity Track Club in the Bronx. During that time I have had the pleasure of working with over 50 young athletes. Among the athletes is my daughter, Tiarra Jackson, a six-time Track & Field Youth All-American. Its been extremely fulfilling to act as a mentor to my community's youngsters. Many of the kids I have encountered have started with a very low level of physical fitness, and its been wonderful to see them improve. As a coach I have a responsibility to not only help develop them physically but mentally. I constantly remind my athletes on the importance of education, and looking at me as an example of someone that has to multi-task. My daughter has been extremely successful with Track & Field and she has stated much of it is based on how she is able to multi-task and develop her mental toughness.
Why should students connect to coaching and peer mentoring scholarships, in contrast to other kinds of scholarships?
Coaching and peer mentoring of any kind develops a way to engage with people in a much more grounded way. We all should take the time to utilize this gift we have from our education, a chance to put what we have learned into practice. The greatest thing you can give someone is your time.
What advantages and benefits does the peer mentoring relationship impart to the mentee, and—a surprise for some—the mentor?
Some of the greatest advantages and benefits are being challenged on things that we think we know. At times we are so sure about a community or people based on what we may have studied or heard, but it's a refreshing shock to the system to be surprised. For me, I was shocked with the amount of positive community support that my track team has received, in terms of local politicians, local news and even now the Amateur Athletic Association has named Velocity Track Club on of the Top 100 teams in the Nation.
What advice would you give a SLU student who might be interested in applying for this program?
Mentoring comes in many forms, don't feel intimidated in sharing your contributions. It's important that fellow students are aware of the social impact that we can have as graduate students. The process is completely online, so no stamp required.
---
URB MA graduate candidate KenDell Jackson is working on his Capstone thesis this semester.
To learn more about the University Student Senate Peer Mentorship Scholarship, click here.