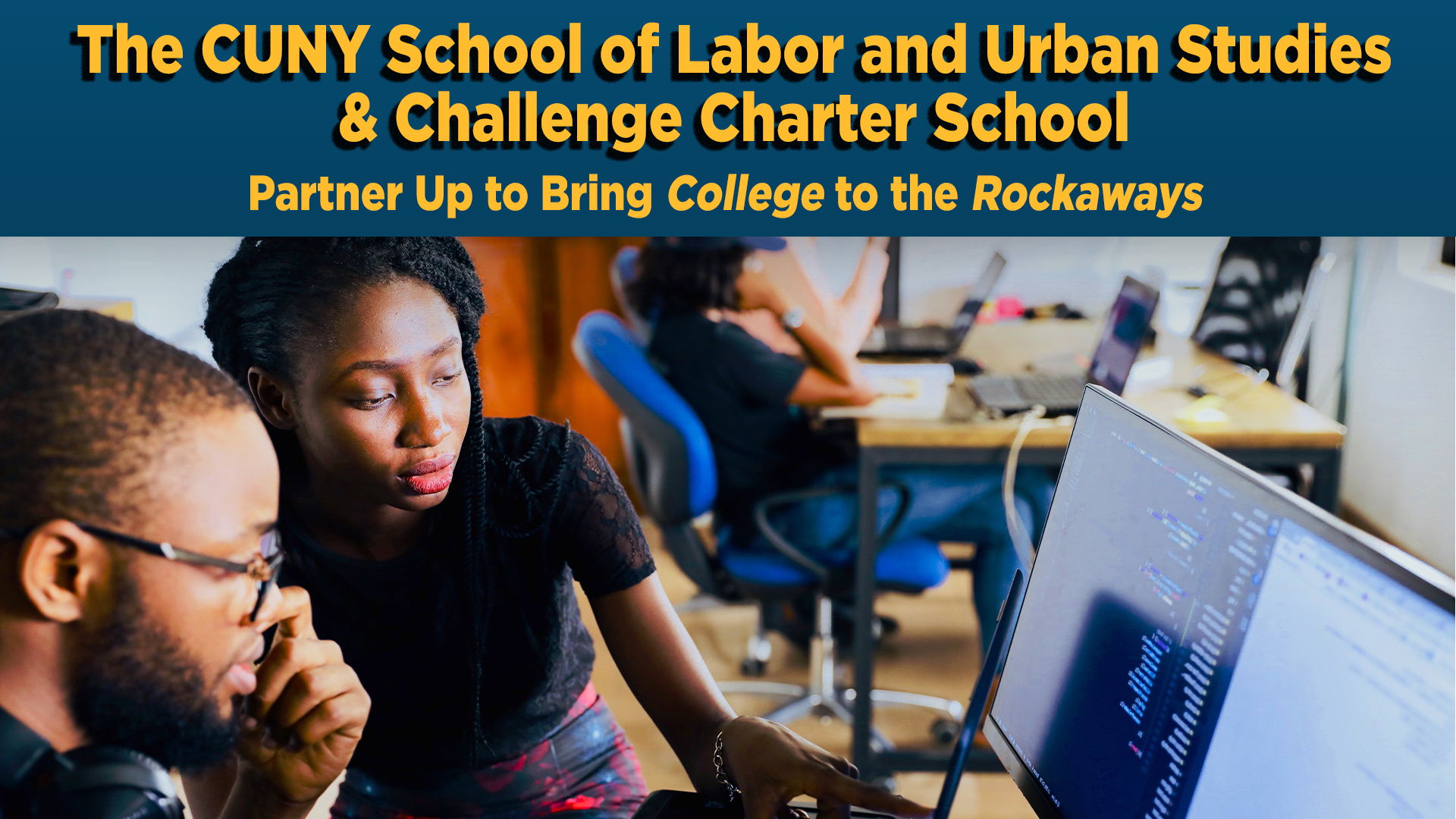 College is Coming to the Rockaways
Challenge Charter High School to Host the CUNY School of Labor and Urban Studies Educational and Career Hub in Far Rockaway
CUNY School of Labor and Urban Studies (SLU) is bringing college to the Rockaways. Courses will be taught by SLU faculty beginning in the spring of 2022 at Challenge Charter High School at 1520 Central Avenue in Far Rockaway.
"As a higher education institution founded on the principles of expanding higher educational opportunities and on preparing students who aspire to careers dedicated to public service and social justice, we are thrilled to be partnering with Challenge Preparatory Charter to do just that; provide access to college courses, academic support services, and opportunities for career advancement to the Far Rockway community," said Gregory Mantsios, founding Dean of the CUNY School of Labor and Urban Studies.
The strategic partnership between key Far Rockaway educational leaders and CUNY SLU creates a viable path for residents to obtain academic and professional skills or develop a new career plan no matter what level of education they have currently. Prospective adult students are encouraged to attend an upcoming information session, either via Zoom or in-person at Challenge Charter School on December 7th at 6:30pm. The spring semester begins on January 28, 2022.
Over the past few decades, Far Rockaway has seen a fair share of economic challenges. Hard hit by Super Storm Sandy a decade ago, the COVID-19 pandemic is the latest disruption to the area's growth and new development, leaving some in the community without work. Once again, families have felt the financial strain. Increasing quality educational opportunities and offering workforce training is the goal of this latest partnership with SLU. With no local college in the community, this educational partnership takes away one of the major barriers that residents interested in upscaling their skills or education have faced: a long commute.
Learn more about the programs that will be offered this Spring semester.
Application deadline: December 15, 2021