All workshops will be facilitated online via Zoom. Registrants will receive a Zoom link prior to the workshop.
Digital Portfolios Workshops
Are you planning to begin a job search? Give yourself an edge by creating a digital portfolio!
Digital portfolios are dynamic personal websites that help you showcase the work you do at SLU and beyond, giving prospective employers a window into your achievements that no resume can offer. This summer, our digital portfolios specialist Nathanie Yaskey will facilitate four hands-on workshops that walk through the process of creating a digital portfolio.
You can register here.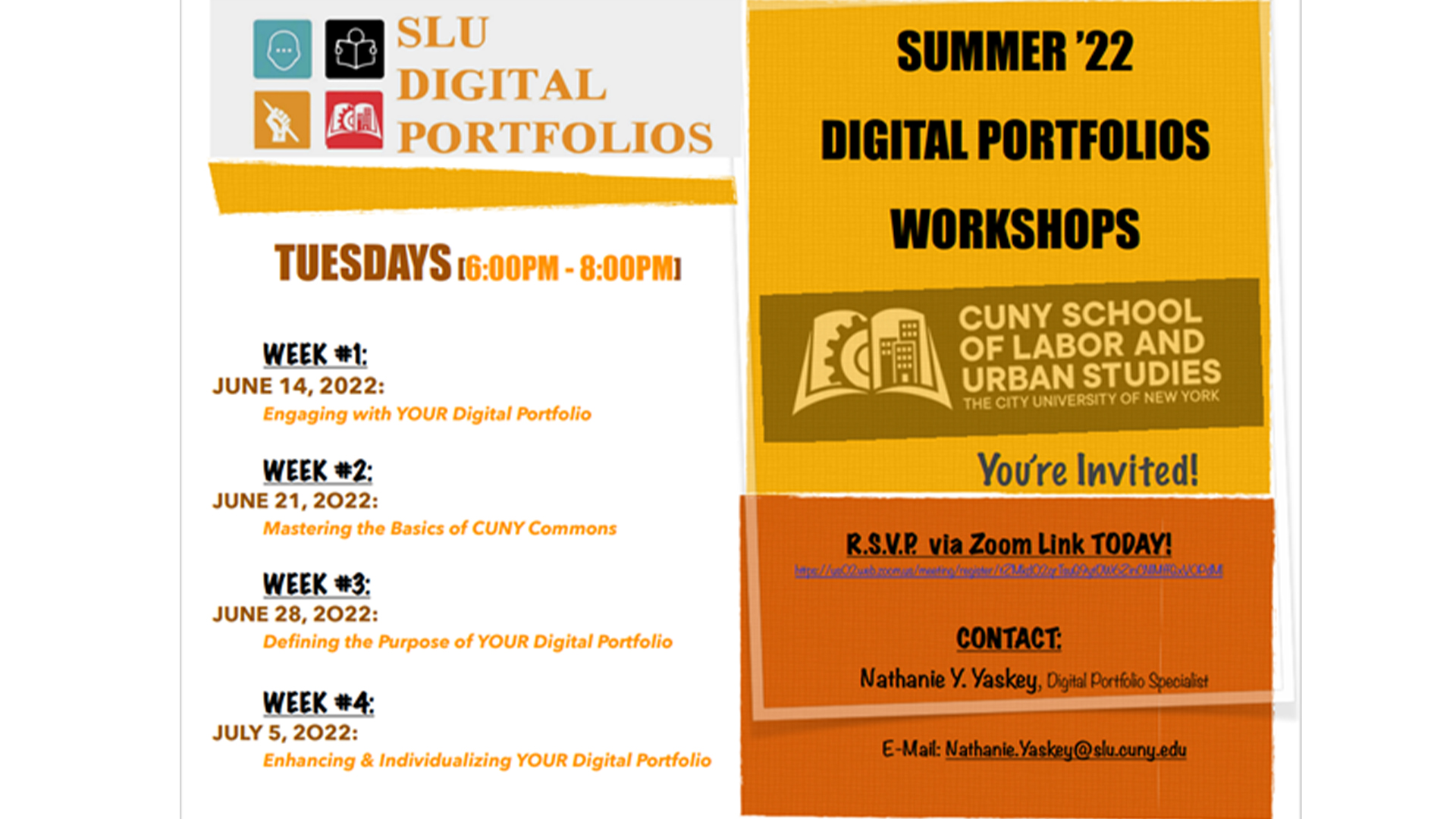 We're also offering three of our most popular How-to workshops this summer:
Tuesday 6/28  How to Read with Confidence (6:15-7:30pm) Good writing stems from good reading. In this workshop, we'll talk about techniques that can help you get more out of your reading, save you time and lead to better writing.
Thursday 7/21  How to Synthesize (6:15-7:30pm) Synthesis is a skill that's critical for writing research papers, literature reviews, and capstones, and-even response papers on more than one article. Writers use synthesis in any assignment where they are asked to bring together more than two sources. In this workshop, participants will learn this fundamental skill through practice, moving from identifying patterns in two texts to drafting writing that makes connections between them.
Beating Writer's Block Series
If you're planning to work on a writing project this summer, join us to write in community at our Beating Writer's Block events:
Monday 6/27 Writing Power Hour (6-7pm) Research has shown that writers work more productively, and enjoy writing more, when they write in groups. Join us to write together. A consultant will offer an inspirational quote and provide space for goal setting before giving you 30-40 minutes to write independently. You'll have time to check in and (if you choose) share your work at the end of the session. Note that this is a working group; please come with a project you'd like to work on.