JOIN US FOR A VIRTUAL WELCOME WEEK AT SLU
The CUNY School of Labor & Urban Studies (SLU) cordially invites students to SLU's "Virtual Welcome Week" scheduled for February 1, 2, 3, 4, 5 and 6.
SLU will host a Virtual Cafe and a series of workshops during the first week of classes to welcome and prepare new and continuing students to start the Spring semester. All events will take place on Zoom. Students are encouraged to join us to ask questions, meet other SLU students and to learn tips and best practices for using Blackboard, Office 365, CUNYfirst, navigating academics and more!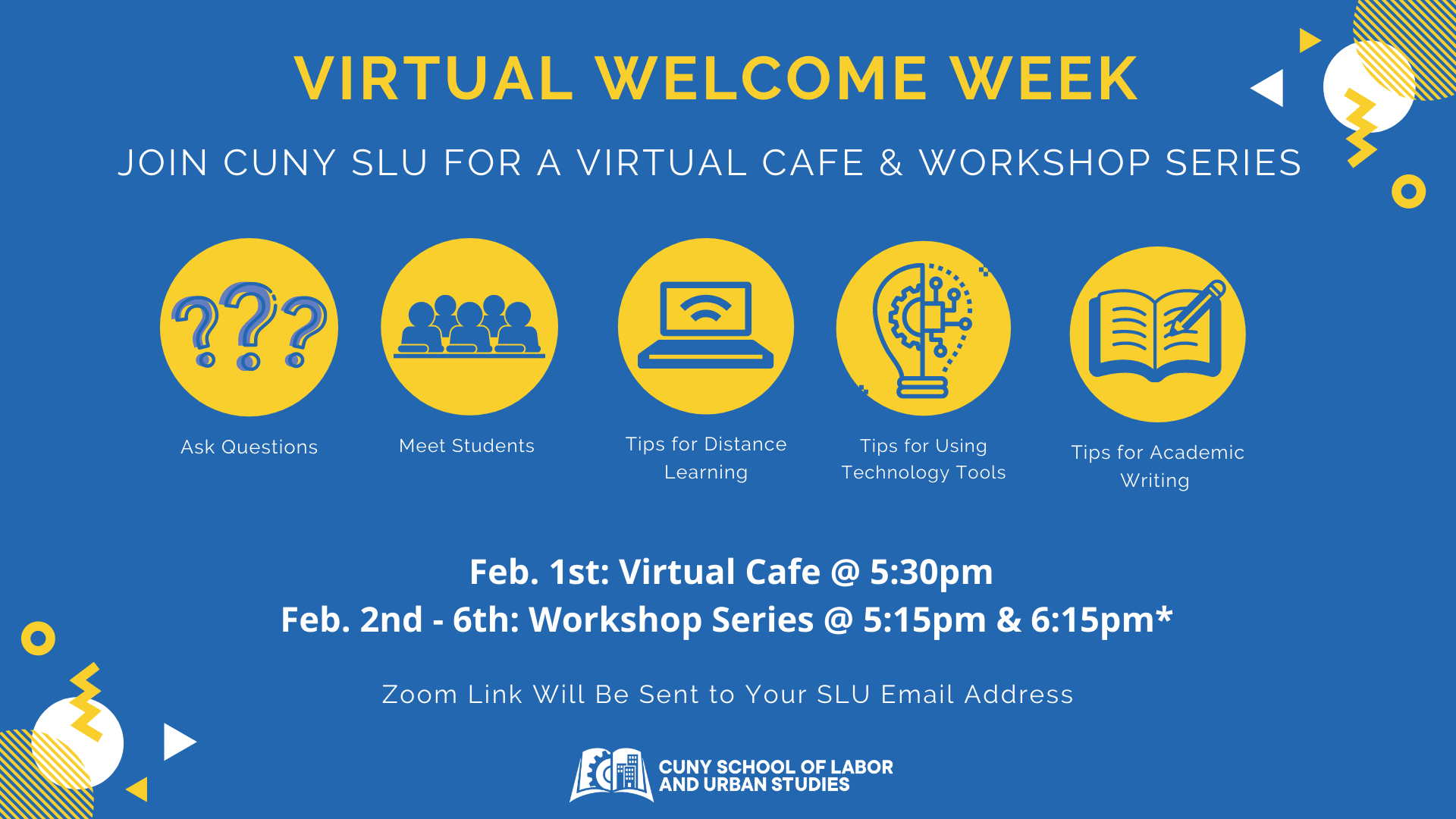 Tuesday, February 2
How to Use Blackboard, 5:15 PM-6:00 PM
This workshop provides an overview of Blackboard. Learn tips and best practices to navigate Blackboard for distance learning classes. Sign up here
Wednesday, February 3
How to Use Office 365, 5:15 PM-6:00 PM
This workshop provides an overview of Office 365 and the tools to use the Microsoft Application suite individually or in collaboration, including Word, Excel, and PowerPoint. Learn how to access your SLU Student email, store and access files and documents in the cloud.Sign up here
Thursday, February 4
How to Use CUNYfirst, 5:15 PM-6:00 PM
This workshop provides an overview of how to use CUNYfirst, including the student service center. Learn how to update your personal information (address, phone and preferred name), how to view grades and holds, as well as how to use scheduler builder to enroll in classes. Sign up here
Friday, February 5
How to Write Like You Never Left School, 6:15 PM-7:30 PM
Has it been a while since you wrote an academic paper? This workshop will provide an overview of key modes and activities of academic writing. We'll introduce strategies for getting started and moving forward with an assignment, highlighting processes and resources to support your writing. Sign up here
Saturday, February 6
How to Write Response Papers, 12:15 PM-1:30 PM
The response paper is one of the most common assignments at SLU. In this workshop, we'll learn about the elements of good response papers by looking closely at a student model and introduce strategies for response paper success. Sign up here