Fall 2020 Virtual Welcome Week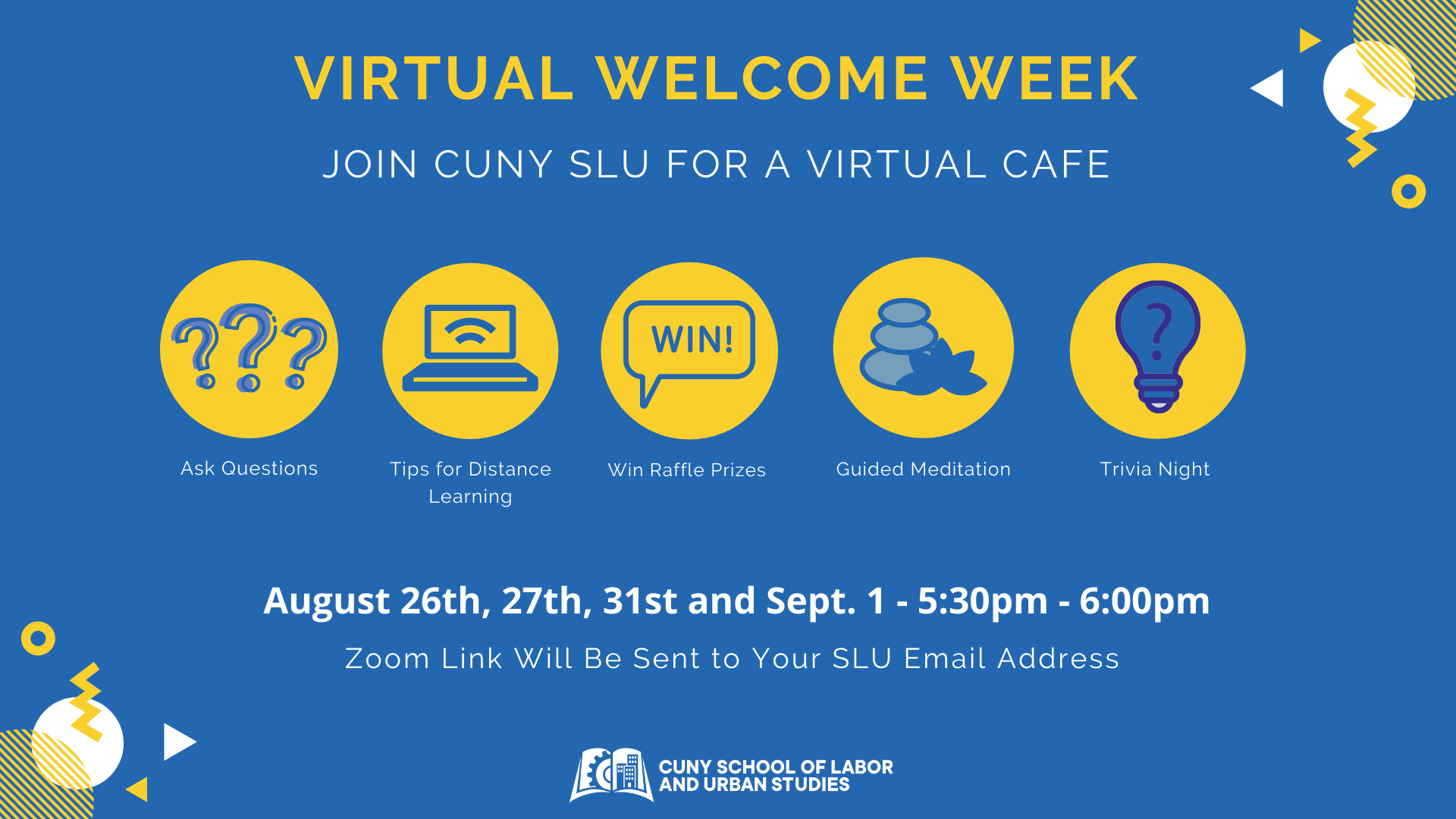 The CUNY School of Labor & Urban Studies (SLU) cordially invites students to enjoy a week of SLU spirit to start the Fall semester. "Virtual Welcome Week" is scheduled for August 26, 27, 31 and September 1st.
SLU will host Virtual Cafes during the first week of classes to welcome new and continuing students. All events will take place on Zoom from 5:30 PM – 6:00 PM. Students are encouraged to drop in before classes to learn how to make the most of their experience at SLU, meet students, and to enter the raffle for a chance to win SLU-themed prizes
FEATURED ACTIVITIES
August 26, 27, 31 and September 1, 2020
5:30-6:00 PM, Zoom
Meet SLU Student Union Representatives
Interact with SLU's new Student Union representatives and get to know more about the upcoming student-led initiatives and activities that will contribute to SLU's campus life.
Virtual Welcome Table
Have a question? SLU staff will be available to answer student questions about campus resources and help with navigating academic, administrative and student services.
How to be Successful in Distance Learning Courses
Learn tips and strategies for navigating the distance learning environment.
Virtual Trivia
Join us for a virtual trivia. We'll bring the questions!
SLU Community Meditation
Have you ever wanted to try meditation? Learn to manage your stress in only 10 short minutes a day with the 10 Minute Mind.
A Zoom link will be sent to your CUNY email address prior to the start of the virtual cafe.